Tuning set for FWB History Nr.1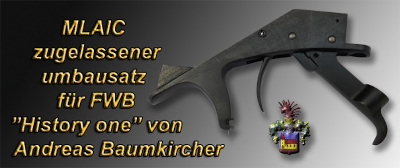 Since 2021 the FWB under hammer pistol model History 1 is offcially banned from MLAIC international tournaments. The fact that the FWB pistol's modern match trigger mechanism does not 
correspond to historic originals, led to this decision.
Entstehungsgeschichte der Baumkircher - Billinghurst Pistole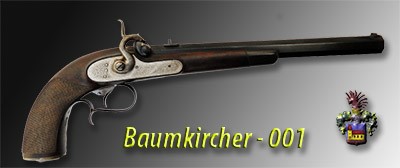 Kurz nach meiner Lehrzeit so um 1973-74 wurde ich durch einen neuen Arbeitskollegen mit dem Schwarzpulvervirus infiziert.
Es stand natürlich für mich außer Frage dass auf Grund meiner Berufsehre  ich mir natürlich meine erste Vorderladerpistole selbst baue und nicht eine der damals angebotenen Repliken kaufe. 

Ich war absolut unerfahren im Bau von Vorderladerpistolen und von meinem neuen Arbeitskollegen kam leider auch keinerlei Hilfe. Im Bauen von Hahnschlössern und Stechern war ich absolut routiniert denn das und anderes war mein tägliches Brot und so machte ich mich ans Werk und baute diese Pistole nach eigener Intuition und Formgefühl und das Werk gelang
Why cal.38
Why would one want a pistol in cal.38?, While common knowledge favor the cal.36 for a pistol because its known for accuracy and ease to load.